Click on the Hotspots Below to Learn More About this Product.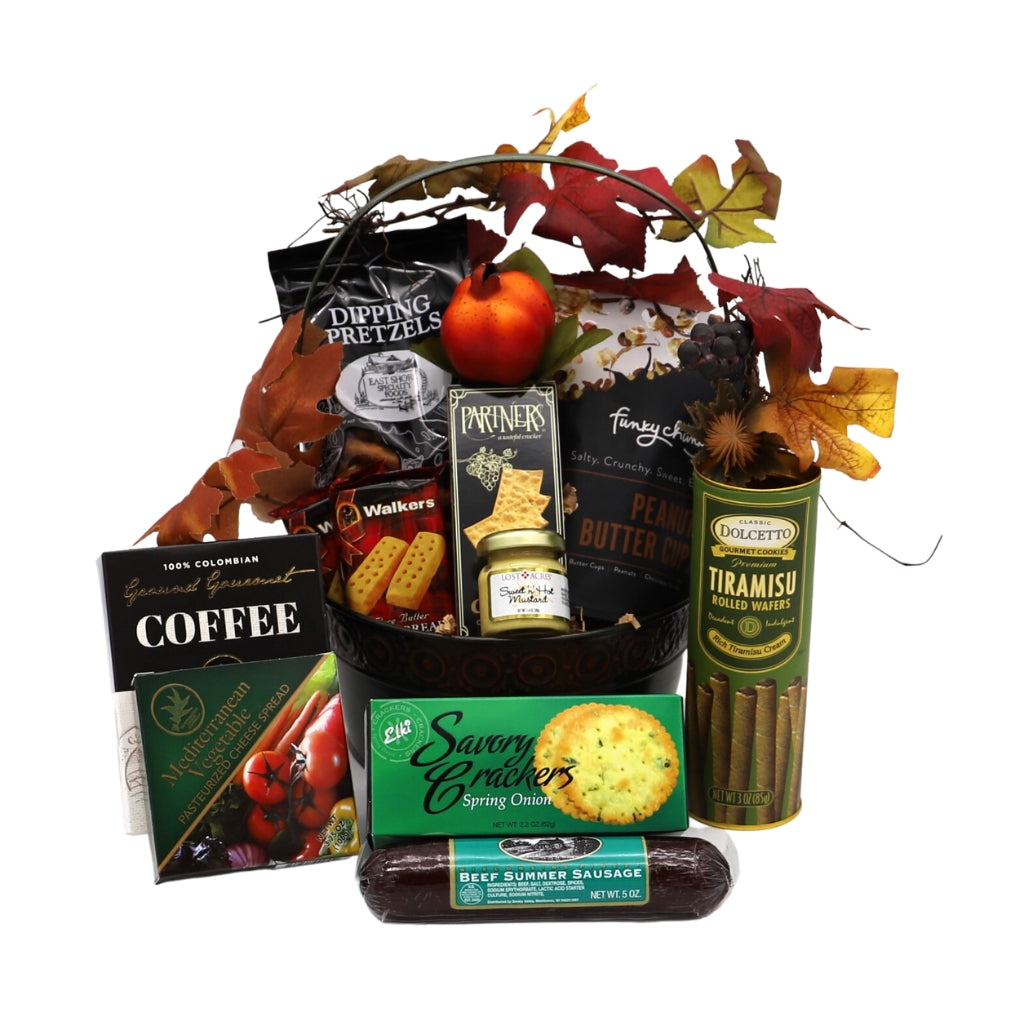 Beef Summer Sausage
Smoky Valley's Beef Summer Sausages have long been a part of Wisconsin tradition. Made from the finest beef and seasonings. Serve them in appetizer platters (with crackers, cheese, and olives), add to sandwiches or wraps
Crackers
Elki Water Crackers are perfect for entertaining. The hint of spring onion adds a unique flavor to the traditional cracker, creating a delicious, savory treat. With a light, delicate flavor and the perfect crunch, they provide a delightful base for hors d'oeuvres, buffet platters, appetizers, and snacks. Enjoy them with your favorite cheese, meats, sweet or savory spreads, or by themselves - either way, you can't go wrong!
Shortbread Cookies
Baked with passion in the heart of the Scottish Highlands, Walkers bring you their classic Shortbread Finger Cookies. Made with only the finest ingredients and no artificial colorings or flavorings, these treats are made delicious traditionally. The cookies are a perfect balance of sweet and buttery. Perfect with your tea or hot chocolate.
Mediterranean Vegetable Cheese Spread
Mediterranean Vegetable Cheese Spread is a delicious combination of smooth and creamy cheese blended with a variety of flavorful vegetables from the Mediterranean region. The mix includes artichokes, carrots, peppers, red onions, and tomatoes making each bite filled with flavor and texture as the vegetables add crunch to the soft cheese. This mild cheese spread can be enjoyed as a dip, appetizer spread, pasta sauce, or stuffing for grilled vegetables.  
Mini Mustard
Perfect for entertaining, gourmet gift baskets, and food services. Spread over hot dogs, hamburgers, sausages, dipping pretzels and savory crackers. Blend into dressings for salads or sandwiches or use as a marinade to add flavor to vegetables and meats.
Dipping Pretzels
The East Shore Dipping Pretzels is a delicious snack that combines the classic flavor of soft-baked pretzels made especially for dips. The unique shape of the pretzel allows for easy dipping, perfect for parties and gatherings. The pretzels are perfect for dipping in your favorite sweet or savory dips!
Tiramisu Rolled Wafers
Tiramisu Rolled Wafers are delicately rolled European-style wafers with a rich cream filling in the center, infused with decadent tiramisu cream. These artisan-baked treats are made with quality ingredients and traditional style baking techniques for a one-of-a-kind snacking experience.
PEANUT BUTTER CUP POPCORN
Turn on your tongue with this serious popcorn mix. The combination of peanut butter and chocolate is an obvious heartbreaker, but we amped up that delight with swirls of peanut buttery and milk chocolatey drizzle. And peanuts. And caramel popcorn. It's so good, you won't want to share.
Zavida 100% Colombian Coffee
From the mountains of Colombia come the rich flavors of this roasted coffee. Perfectly balanced in both acidity and body.
The distinctive 100% Colombian taste is brought to life when you brew a cup of this bold and vibrant coffee.
Partners Crackers
Partners Olive Oil & Sea Salt Crackers. These delicious, gourmet artisan crackers are slow baked with extra virgin olive oil and a touch of sea salt. They're perfect for snacking on their own or pair them with anything from your favorite hummus to the fanciest of cheeses. This enjoyable flavor is a big hit.