Click on the Hotspots Below to Learn More About this Product.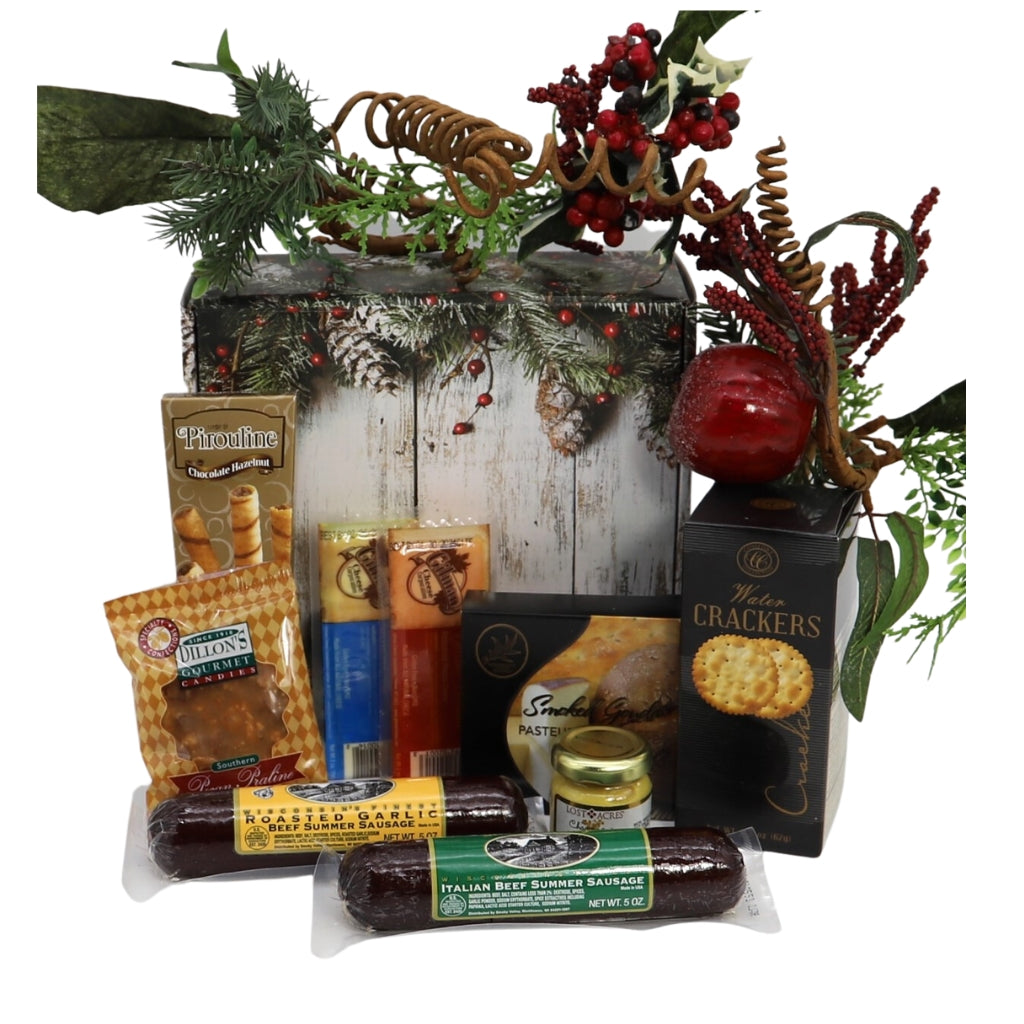 Italian Beef Summer Sausage
Smoky Valley's Italian Beef Summer Sausages have long been a part of Wisconsin tradition. Made from the finest beef and seasonings
Wisconsin Swiss
Distinctively flavorful for its balance of natural Swiss and cheddar cheeses. The perfect complement for ham-on-rye. A fantastic melt for a sauce or fondue.
Pecan Pralines
This traditional Southern treat calls for lots of pecans and a creamy recipe that is sure to please all taste buds. Fresh pecans with an all natural, buttery, praline candy coating delivers a real taste of the South.
Gouda Cheese Spread
Smoked Gouda Cheese Spread is cold smoked to enhance the flavor and give it an earthy and smoky taste. It pairs wonderfully with grilled vegetables, meats, and seafood, making it an excellent addition to any grilled or smoked dish.
Mustard
The miniature bottles are perfect for picnics and BBQs, and make a great addition to any pantry.
Spread over hot dogs, hamburgers, sausages, dipping pretzels and savory crackers. Blend into dressings for salads or sandwiches or use as a marinade to add flavor to vegetables and meats.
Water Crackers
A variety of assorted gourmet crackers. These crackers are a great fit for your basket. Thin & crispy, they are packed in a plastic tray to avoid breakage.
Chocolate Wafers
Pirouline Chocolate Hazelnut Wafers are lightly toasted, rolled into perfect spirals, and have a crispy, crunchy texture. The luscious chocolate hazelnut cream filling made these rolled wafers the bestselling variety in the US. They can be enjoyed on their own as a snack or as an accompaniment to tea, coffee, or ice cream.
Vintage Yellow Cheddar
A sharper taste with the classic color that, together, define a true 'vintage' cheddar. Stands out among cheese assortments or on sandwiches, baked potatoes and more.
Roasted Garlic Summer Sausage
Treat your taste buds to the delicious flavor of roasted garlic in a summer sausage! Smoky Valley's Summer Sausages have long been a part of Wisconsin tradition. Made from the finest meat and seasonings, summer sausages are usually semi-dry and do not need to be kept refrigerated even after opening. They can be sliced and served at room temperature or fried, grilled, or baked. Serve them in appetizer platters (with crackers, cheese, and olives), add to sandwiches or wraps, or add them to pasta dishes, salads or casseroles to add flavor and protein.